---
---
Pro Circuit Extended Folding Shift Lever

Fits The Following Bikes:
2005-Current Kawasaki KLX110, KLX110L, KLX110R
P/N: KSL20110
Shift Lever Description:
+30mm longer than stock, Pro Circuit's Shift Lever is forged from aircraft quality billet aluminum for strength and anodized for durability. It comes with stainless steel spring hardware that resists corrosion and the free-folding, knurled tip design helps prevent dirt from clogging. This shifter is the perfect upgrade for someone looking to replace an older shift lever or to add a factory look to their mini moto machine.

(If your 2002-2004 KLX110 or DRZ110 has the updated 2005+ shift shaft then you can use this Pro Circuit lever)
---
Customer Reviews
Write a Review
Ask a Question
06/24/2021
Brooksbys, C.

United States
I recommend this product
The shift lever Jesus would rock if he rode a 2005+ KLX/DRZ 110
Feet are underrated. Think about it, we stand on them most of the day, stub them more often than we would like, walk barefoot on hot or rocky ground with them, stuff them into shoes and other constricting footwear, step on legos, etc…. Basically feet get the shaft. But you can change all of that for one of your feet, not all of the time, but for those glorious moments you get to rip around on your mini. Best of all the foot you can help today is your most neglected and underrated foot, the left one. For as bad as feet have it, the left one is truly the **** step child of the foot world. The right one gets all the glory kicking balls of all varieties, or ***, dealers choice. But the left one gets left out of pretty much all of that glory except when you are doing one thing: Clicking gears. That's right show your left foot some love and let it caress this jewel of a lever built by the wizards at pro circuit just so your left foot can have some love. Be an enabler and let your left foot have it's moment in the sun, clicking gears faster than a coked up squirrel can jump through an open window, all the while your right foot is asking "is it time to slow down yet, I can brake?" **** no! "Keep clicking!!!!" With all of the hate going on in the world, doesn't your left foot deserve it? (Hint: it does.). Give Matt and the crew at Factory Minibikes a call and let them help you help your left foot.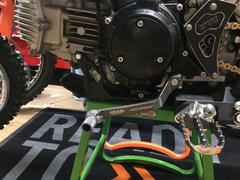 06/20/2021
Jack P.

United States
I recommend this product
Pro Circuit KLX110L Shifter
Looks Awesome and Functions Even Better!!
06/08/2021
David L.

United States
I recommend this product
Mitch Payton is god!!
On the first day of Christmas Mitch Payton have to me...